Lowana's clubs for primary school students aim to encourage academic excellence and personal growth. These are developed through supervised afternoon programs, which include games, character development talk, afternoon tea, supervised silent study and individual tutoring. A variety of fun activities are also organised on Fridays of each term, and community service opportunities are provided for each club.
'GAME ON' SUMMER CAMP 2020: Year 5 - 8 girls (in 2020)
Dates
Monday, 20 January - Wednesday, 22 January 2020
Cost
$200 per camper
$170 per leader and per 3rd child

Contact
Sonia Concepcion
0421 178 158
admin@lowana.org.au  
What to Pack Checklist
Please download a copy of the flyer
Where
Long Point Conference Centre
20 Wills Rd, Long Point NSW 2564

Drop off time
Monday, 20 January 2020 at 2:30 pm 
Pick up
Wednesday, 22 January 2020 at 1pm
Payment
Lowana Study Centre
BSB 032-273
Account 295568

(Please reference payment with surname, initial and school year eg. Smith M Y6)
Applications close 5 January 2020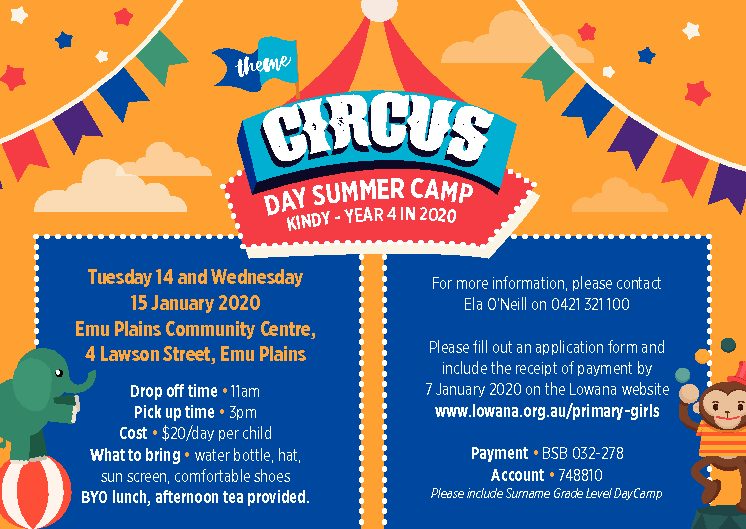 'CIRCUS' DAY SUMMER CAMP
Kindy – Year 4 Girls (in 2020)
PAYMENT – $20/day per child
Bank account: Primary clubs
BSB: 032-278
Account number: 748810
---
TELL YOUR FRIENDS
---
ONLINE APPLICATION
Applications close 7th January, 2020. 
Click tiles to expand each event for more information