YOUNG PROFESSIONALS
Lowana brings together women from a variety of industries and ages for mutual support, insightful guidance, and lifelong learning. It aims to enrich women professionally and culturally through talks, workshops and activities that enabe them to positively contribute to their social environment.
Through sharing of inspirational journeys, authentic friendships and a spirit of collaboration, a new generation of young professional women are being empowered to participate in positions of leadership and positive influence across all sectors.
SCROLL DOWN for more info
Upcoming Events, Weekly Activities, Community Service, Contact
WEEKLY & MONTHLY ACTIVITIES
IMPACT
Beyond Survival - Conference

Theme: Confidence in the Workplace
When: Saturday 10 March 2018
Time: 10:00 am – 11:30 am
Venue: Atura Blacktown (Macarthur Room), 32 Cricketers Arms Road Prospect, NSW 2148
Cost: FREE ($10 Donation at the door appreciated)
Speaker: The Hon. Tanya Davies MP BAppSc (Phty), Member for Mulgoa, Minister for Mental Health and Minister for Women | Link to her Bio
Contact
Lourdes 0433 540 797
Registeration is required to attend this event
What is IMPACT?
IMPACT has come about as a response to the growing demands that young professional women face in the workplace. The conference aims to address the question of how to meet and increasing workload and heightened expectations, while also making a lasting impact.
Through the advice of leading professionals in their fields, we tackle the questions:
How can I build confidence in my work when I am still learning?
Is it possible to be a great professional and maintain a steady work life balance?
What mentoring opportunities are available to me?
The conference is a space where young people from a variety of professional environments can hear questions and difficulties they face. It's an opportunity to make new connections, and to challenge each other to be even better professionals.
Teach Meet
Motivating teachers towards an education revolution
Venue: Various locations in Western Sydney
Time: 7.00pm – 9.00pm
Contact
Caresse 0410 458 876 | meetteach1@gmail.com
What is Teach Meet?
Becoming a better professional – developing better strategies, getting different perspectives and improving professional ethics
Harnessing the potential in your students – strengthening positive personality treats of each learner
Networking with other teachers – supporting each other in the field of the 21st century learning
Sharing resources
---
We're always looking for Speakers!
Inspired to share your gifts and talents with young professional women? Lowana is always interested in your help as a one-time speaker.  
Let us know how you might be able to help.
Contact
Anna 0404 114 110
---
Apologetics Series with Dr Sam Day
When: Every 2nd Monday of the month
Time: 8.00pm
About Dr Sam Day
Dr Samantha Day MB.BS (Syd, Hon I), MPH, FRACP, FRCPA. Clinical and laboratory haematologist at Liverpool and Campbelltown Public Hospitals NSW. Lecturer for UWS Medical School.
Topics include:
Thomas Aquinas for modern thinkers
The Resurrection of Jesus Christ
The mass and transubstantiation
Church authority (Bishops and Popes)
Church history
Marian doctrines
In Conversations 
About the series
In Conversations is a series of events that aim to bring young, like-minded women together to talk about significant social issues and the ways in which we can better present and defend our views.
Contact
Macy 0431 653 598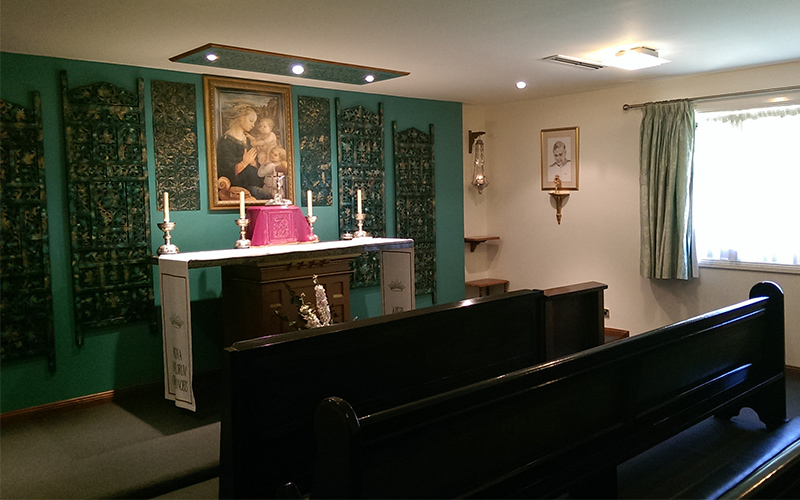 Spiritual Activities
Schedule
1st Monday of the month - Catechism Class
2nd Monday of the month - Meditation & Guest speaker
3rd Monday of the month - Catechism Class
4th Monday of the month - Recollection and Talk
Meditations
Lowana's chaplain gives a 30 minute talk on helping individuals reflect on the gospel and put their faith into practice.
When: Every 2nd Monday of the month
Time: 7.00 - 7.30pm
---

Evenings of Recollections
When: Fourth Mondays,
Time: 6.45pm – 9.00pm at Lowana
The priest is available to hear confessions from 6 pm.

Monday 26 February

Monday 19 March

Monday 23 April

Monday 28 May

Monday 18 June

Monday 23 July

Monday 27 August

Monday 24 September

Monday 22 October

Monday 26 November

Monday 10 December
Social activities for 2018 - TBA
COMMUNITY SERVICE & FUNDRAISING
Community Service
Mama Lana's Community Foundation
Mama Lana's is a not-for-profit organisation dedicated to helping homeless and underprivileged community in the greater Penrith region.
Visit: mamalanas.org.au
When: Every month, one Saturday evening.
Dates: To be confirmed
To Volunteer: Please request to join the Young Professionals Watsapp group to be notified of future Community Service events. 

Contact
Teresa 0413 694 724
---

The D.R.E.A.M Project
Founded in 2015, The DREAM Project provides a source of inspiration and motivation for high school students with refugee background to integrate with the Australian community. We do this by helping them with their studies, preparing them for work and just being their friend.
Be a D.R.E.A.M Volunteer:
dreamprojectaustralia.org
Vinnies Van, St Vincent de Paul Society
(Mount Druitt and Parramatta)
Vinnies Van provides friendship, compassion and dignity to those experiencing homelessness and social isolation in the Mount Druitt and Parramatta areas. It also provides food and referral.
Visit: https://www.vinnies.org.au/page/Find_Help/NSW/Food/Penrith__Parramatta_Night_Patrol/
Dates: To be confirmed
To Volunteer: You must attend Vinnies Van Training. Please contact Teresa if you would like to sign up. Volunteers who can drive a van are valuable to the Night Patrol team but not a requirement.
Contact
Teresa 0413 694 724
Busy Bees
When: Saturday March 17
Time: 1:30 - 3:30pm
Cost: $50 for 2 hours
Lowana Busy Bees is a volunteer program which is also a fundraising initiative. All proceeds go to supporting Lowana and all her many educational activities. This fundraising initiate is a joint effort across all of Lowana's clubs: High School, University Students, Young Professionals and Women's groups. 
All Lowana Busy Bees are professionally trained to deliver quality housekeeping services including: bathrooms, dusting, vacuuming, ironing, windows and extras e.g. blinds
To Volunteer
Young Professional women volunteers who can drive and/or own a vehicle are encouraged to volunteer driving younger volunteers (in highschool and university groups) to the venues booked for services. 
You may also request training if you would like to help with house keeping services. Training can be arranged in groups based on demand and availability. 
Contact 
Kristina 0452 426 142
To Book Services
Young Professional women may also book services for their own homes. All proceeds will go to supporting Lowana activites. 
Contact 
Ciantal 0433 671 344
Young Professionals Service Project
Dates: 29 September 2018 – 6 October 2018
Details to be confirmed
Where:
 Kenthurst Studey Centre,
231 Pitt Town Rd, Kenthurst NSW 2156

Cost: $350.00
Activity Times
Start: 8:00pm on the first day |  Finish: 4:00pm on the last day
Make a Booking
To book a retreat you must be a registered user.
Please go to: www.womensactivities.org
For more information
Please contact Shane Carter
m 0401 513 528 | e womensactivities.org@gmail.com Join the Young Professionals group chat on Whatsapp
to stay up to date throughout the year!
For more information please contact:
Macy 0431 653 598 or Anna 0404 114 110